Point-Based Convective Outlook Verification App
Storm Prediction Center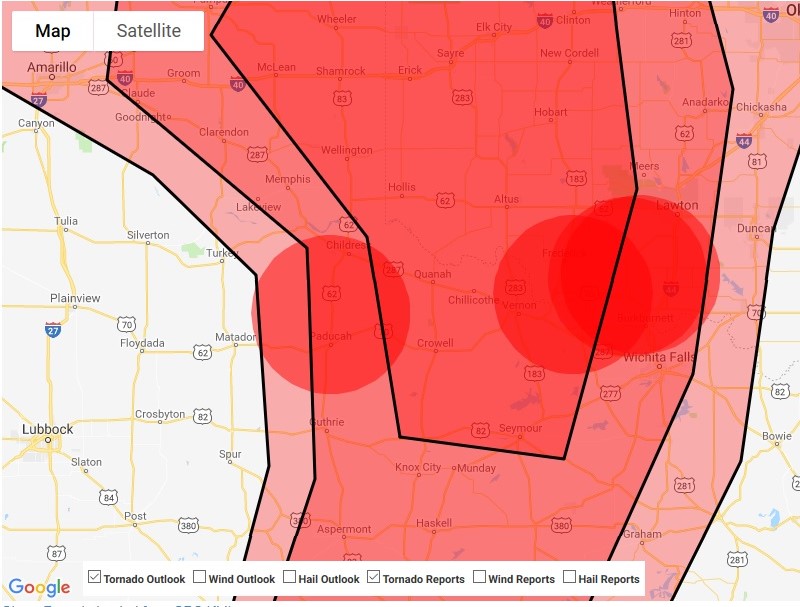 The Storm Prediction Center issues daily convective outlooks for the entire continental Unites States, breaking down severe weather risk into three categories: tornado, hail and wind risk. Probabilities (2%, 5%, 10%, 15%, 30% or 45%) of experiencing these severe weather events within 25 miles of any given point are attached to each forecast. These forecasts are then verified after all severe weather reports have been received in order to evaluate forecast accuracy.
The current forecast verification scheme plots the outlook on a latitude-longitude 80-km grid spacing, with each grid cell then being assigned it's respective outlook probability. This map is overlaid with verified storm reports, which are then assigned to their respective grid cell. This data is analyzed to determine the accuracy of the individual probabilistic outlooks. Unfortunately, this forecast verification scheme may not reveal the complete picture for a couple reasons:
The outlook is specifically for areas "within 25 miles of a point", whereas the verification scheme uses a grid based approach.
A storm report is assigned to a single grid cell (or single probabilistic region), but ideally, a storm report should be accounted for in as many probabilistic regions as it overlays (three, in the example above!)
During the Fall 2017 semester, I developed a Point-Based Convective Outlook Verification App for the SPC. This app analyzed the May/June 2017 outlook and report archive by overlaying the reports and probabilistic forecast regions, generating and saving forecast accuracy analytics to a PostgreSQL database. The statistics were generated by overlaying a 25-mi circle over each storm report and including that report for every probabilistic region overlaid.
The application gives the user the ability to browse historical verification results with interactive maps and graphs, re-analyze with user defined variables (such as the 25-mi radius, dates and outlook times), and generate accuracy reports over specific timeframes. The project was built on Python and various open-source tools.
Technologies
Python

bottle

sqlalchemy

shapely

pyproj

shapely

Google Maps

JavaScript

jQuery

HTML5

PostgreSQL